Bee Friendly Farming Resources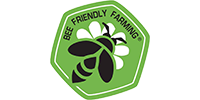 The Bee Friendly Farming (BFF) programs recognize, engage, and support BFF participants and pollinators everywhere. Check out the resources below to learn more about pollinators and how to improve pollinator health on agricultural lands.
About Bee Friendly Farming
AGRICULTURAL TECHNICAL GUIDES
Click on the guides below to download!
RESOURCES FOR STATE DEPARTMENTS OF AGRICULTURE
Click on the toolkit below to download!